HSP Seminar (#244)"Future of Human Security: Its Increased Importance in the Struggling World – from the United Nations Perspective"
Description:

In this special seminar, we have the Assistant Secretary-General (Strategic Coordination) Mr. Fabrizio Hochschild. He will speak about the increased importance of 'human security' in the 21st Century for the international community.
Q and A session will follow after his speech.

Date:
March, 8, 2018(Thurs)13:00 - 14:20
Venue:
Bldg 5, Room 521, Komaba Campus, University of Tokyo
Lecturer:
Mr. Fabrizio Hochschild (Assistant Secretary-General)
Moderator:
Prof. Ai Kihara-Hunt (Associate Professor, Graduate Program on Human Security, the University of Tokyo)
Language:
English
Organizers:
Graduate Program on Human Security, University of Tokyo (HSP)
Co-organizers:
Research Center for Sustainable Peace, Institute of Advanced Global Studies (IAGS), University of Tokyo

Research Center for Sustainable Development, Institute of Advanced Global Studies (IAGS), University of Tokyo

Research Center for Asian Studies, Institute of Advanced Global Studies (IAGS)
【Summary】
"Future of Human Security: Its Increased Importance in the Struggling World
 – from the United Nations Perspective"
by Mr. Hochschild, United Nations Assistant Secretary-General for Strategic Coordination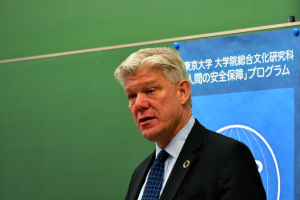 On 8 March, the Graduate Program on Human Security, the University of Tokyo, hosted a special lecture by the UN Assistant Secretary-General for Strategic Coordination, Mr. Fabrizio Hochschild.
He questioned if our generation could hope for a better world for the next generation while highlighting seven major challenges today: i) climate change, ii) growing inequality, iii) lack of clarity in  geopolitical power relations leading to  greater unpredictability, iv) increasing number and complexity of armed conflicts, v) global threat of terrorism, vi) reduction of space in human rights promotion and protection, and vii) uncertainty of frontier technology.
These threats are taking place simultaneously and are mutually reinforcing. For example, increasing inequality can push marginalized people to further alienation, give rise to nationalism and isolationalism, and create an opportunity for recruitment by extremist groups. The rise of terrorism comes with the absence of the rule of law and many terrorist-related activities operate in developing countries.
It is therefore important to have a comprehensive measure to address the root causes of terrorism. Technology advancement is moving at a speed that outstrips public scrutiny so much so that policy makers cannot keep up. When the internet was created, people hoped that it would make the world better, but such technology is also susceptible to new forms of manipulation in which it is used as a tool for warfare.
Currently, there is mistrust for multilateral organization including the UN. This is paradoxical, given the challenges that we are facing are transnational in nature, and require solutions through cooperation. The UN's relevance is ever more vital.
The UN is under a major reform to make itself more effective, to tackle discrimination, to reduce bureaucracy, and to have better coherence in its approach. The emphasis of the reform is on prevention, anticipating crisis and building resilience.
On the Sustainable Development Goals (SDGs), Mr Hochschild described them as a comprehensive tool in addressing contemporary issues. Japan has been leading  on the human security approach, which echoes the Secretary-General's vision. Both concepts  focus on the most vulnerable people. By taking an integrated, needs-based and comprehensive approach, and by addressing the root causes of issues, human security can bring results.

(summary by Haruka Mizobata, Ai Kihara-Hunt)
2018.2.27